Many people have expressed worry and concern about those in the Presidential order of succession that could become President should Trump be impeached. In this post I would like to share a scenario in which we could end up with General Mattis after all of the dust settles. I will share information available from reliable and reputable sources going in order down the list.
Mike Pence
From my own observation one can tell from Pence's body language in interviews that he is lying and I am quite sure that recently appointed Special Counsel Bob Mueller will prove it. Recent statements not only from Trump himself admitting he fired Comey over the Russia investigation as well as Deputy AG Rob Rosenstein saying his memo was a cover is further proof that Pence lied.
//players.brightcove.net/293884104/SJa0Thl7_default/index.html?videoId=5429060607001
Below are just some of the things that Pence has done that will be thoroughly investigated:
A top cleric of the Russian Orthodox Church and ally of Russian President Vladimir Putin met privately with Vice President Mike Pence Thursday morning and urged the U.S. to cooperate with Russia to combat terrorism in the Middle East.
Metropolitan Hilarion Alfeyev of Moscow, who chairs the Russian Orthodox Church's external relations department, spoke with Pence backstage at evangelist Franklin Graham's Washington summit on religious violence against Christians.
"It is only one united, international anti-terrorist coalition which can combat terrorism and win," Hilarion told TIME during an interview in a suite at the Trump International Hotel in D.C., a few blocks down Pennsylvania Avenue from the White House. "The two countries should put these political differences aside."
IF you read the full article below you will see that Billy Graham's son, Franklin is a traitor and complicit in activity with Russians as well, including Putin, and he is VERY close to the Trump administration.
http://time.com/4776717/mike-pence-russian-cleric-hilarion-alfeyev/
Mike Pence owes the lofty perch he occupies today to none other than Paul Manafort, the short-lived Trump campaign manager who was forced out of that public role in Trump World after The New York Times reported apparent records of millions of dollars in payments to Manafort for his work on behalf of the pro-Russia political party of Ukraine's former president, Viktor F. Yanukovych, an ally of Russian President Vladimir Putin—the same Vladimir Putin who put his thumb on the scales of the U.S. presidential election in favor of Donald Trump.
It was Manafort who engineered Pence's selection as Trump's running-mate, knocking out New Jersey Governor Chris Christie who, according to reports, had already been offered the slot. And even though Manafort, who has since been revealed to have had other business dealings with other oligarchs from the former Soviet bloc, officially left the Trump campaign in August, he remained an advisory presence during the transition, and was said to talk with Pence regularly.
http://www.cbsnews.com/news/donald-trump-offered-chris-christie-vice-president-role-before-mike-pence/
Pence lied for Trump in the firing of FBI Director James Comey
Vice President Mike Pence said on Wednesday FBI Director James Comey was fired to restore confidence in the law enforcement agency and not because of any connection to its probe of possible Russian meddling in the U.S. presidential election.
"That was not what this was about," Pence told reporters at the U.S. Capitol when asked whether President Donald Trump's decision to fire Comey was related to the Russia investigation. "The president took strong and decisive leadership here to put the safety and security of the American people first."
http://www.reuters.com/article/us-usa-trump-comey-pence-idUSKBN18625E?il=0
Mike Pence and Russian political parties on same client list
I found Congressman MIke Pence on the same Strategic Media Group Client list as two Russian political parties, along with other fun clients as GoPAC, Gingrich and Freedom Forum.
The Russian parties are Russia Now and Christian Democrat Coalition. With the help of some excellent taxpayer funded librarians, I have some details on the frustratingly vague references.
Russia Now is likely "Sovremennaia Rossiia" with this website  and a blog. The Christian Democrats are "Rossiiskoe khristiansko-demokraticheskaia partiia,"  with a website here. Neither party appears active. Both emphasize a strong military, family values, nationalism and the importance of religious values. A good fit for the GOP these days.
This is all I have right now. What we need are names behind these parties to build the network to connect the russians, the domestic clients and the consultant. SMG appears to be fishing from a small, cozy ideological pond that could also hold connections between Pence and Manafort via Russia.
The media sees Pence through the lens of an aw-shucks Indiana governor who's afraid of eating alone with women.
However, for most of his congressional career, he served on the House Foreign Affairs Committee. Cummins, the huge multinational engine corporation with a Russian presence, is headquartered in his former district.  He has been to the international rodeo before.
Give a post a few days, and you always see something to add or clarify. This is what needs digging into.
1) Any connection between the Russian political parties listed to the current Trumpgate scandal and Manafort in particular. Who were the party leaders or which other political parties did these groups merge into and do they fit into what is currently known?
2) Any connection between the Russian political parties listed and Mike Pence,outside of this co-appearance on a web page? How could Mike Pence come to be known by these parties?
3) Any connection between other clients such as the Freedom Forum in Indiana and these Russian parties that also connect to Pence.
http://www.dailykos.com/story/2017/4/21/1655059/-A-Pence-Manafort-Russia-connection-before-Trump
Congressman MIke Pence appears on the same Strategic Media Group Client list as two Russian political parties, along with other fun clients as GoPAC, Newt Gingrich and Freedom Forum.
SMG owner M. Darrell Williams died just this April 22 (a very Russian timing of late) and In his obit is an interesting paragraph
After the fall of the Soviet Union he [Williams] made several trips to Russia as part of the International Republican Institute where he presented seminars on campaigning and elections. He enjoyed his many Russian friends.
Republican media consultant, tied to Russia and to all sorts of conservatives like Mike Pence. Interesting.
International Republican Institute connections
Now, let's get stranger. In this story from
Politico
 is a reference to Paul Manafort protege Konstantin Kilimnik. Kilimnik, formerly of Russia's military intelligence GRU, worked at International Republican Institute for a decade until 2005, when he was hired by Manafort to work in Ukraine.
Kilimnik was at the institute at the same time Williams visited.
Let me be clear, this is a thin connection, but,  M. Darrell Williams, a media consultant connected to Mike Pence and other conservatives, just happened to make several trips to the Moscow office of the International Republican Institute who coincidentally had a GRU-connected staffer Kilimnik who wound up working for Paul Manafort on Ukraine elections.
No clear Pence-Manafort connection yet, but perhaps we are getting closer.
FYI
Here is that client list from SMG…
Republican Party of North Dakota
Republican State Committee of Pennsylvania
Republican Party of Vermont
Republican Party of Florida
California Republican Party
Republican National Committee
Nat'l Republican Congressional Committee
Office of the Attorney General (Virginia)
Christian Democrat Coalition (RUSSIA)
Russia Now Party (RUSSIA)
Freedom Foundation (Indiana)
Woodrow Wilson Education Foundation (New Jersey)
Americans for Tax Reform
Governor Mark Schweiker (Pennsylvania)
Lt. Governor James Cawley (Pennsylvania)
National Mining Association
GoPAC
Propane Vehicle Council
Coalition for Affordable & Reliable Energy (CARE)
Pennsylvanians For Effective Government (PEG)
ALEX & ANI (Rhode Island)
Cong. Mike Pence (Indiana)
Cong. Jim Greenwood (Pennsylvania)
Cong. Robert Aderholt (Alabama)
Cong. Mike Rogers (Alabama)
Cong. Newt Gingrich (Georgia)
Cong. Felix Grucci (New York)
Cong. Bob Franks (New Jersey)
Cong. Marge Roukema (New Jersey)
Cong. Pat Toomey (Pennsylvania)
Cong. Mike Fitzpatrick (Pennsylvania)
http://www.dailykos.com/story/2017/5/17/1663368/-Pence-Russia-direct-connection-one-step-closer
Rachel Maddow pointed out the obvious. None of the excuses that Vice President Mike Pence is giving for his lack of knowledge about the Russia scandal make sense. As the head of Trump's transition, Vice President Pence is not clean and will go down with Trump for the events that happened during the 2016 election.
Video:
Maddow said:
Mike Pence had been the head of the Trump transition. As such, he would have been intimately involved with the selection and vetting process for a job as important as national security adviser. Nevertheless, Vice President Mike Pence has professed absolute ignorance of any of the scandals of any of the foreign payments, contacts and all the rest of it surrounding Mike Flynn. Pence was the leader of the transition. As leader of the transition, he was notified in writing by members of Congress about Flynn's apparent financial ties to the government of Turkey. The transition was also apparently notified twice by Flynn's own lawyers about his financial relationship with the government of Turkey, but nevertheless, Vice President Mike Pence says he has no idea about any of that.
….
Vice President Mike Pence claims he had absolutely no idea about that despite him being notified about on the record multiple times and it being a matter of considerable public discussion. Mike Pence's role in the Mike Flynn scandal is flashing like a red beacon for anyone who sees him as the normal Republican in this setting.
The most common statement that I hear from readers when Trump impeachment is discussed is always some version of, "Yeah, but then Mike Pence will be president."
There is no way that Mike Pence didn't know what was going on with Russia. The White House's attempts to firewall off Pence from the rest of the scandal make no sense and will not hold up under investigation.
If Donald Trump leaves office under a cloud of scandal, the investigations, criminal and political, will continue. The Russia scandal won't go away after Trump is gone. Mike Pence sold himself to Donald Trump when he became his running mate. Pence is deeply involved in this administration.
The political career of Mike Pence will be over when the Russia scandal blows up.
Okay, enough on Pence for now.
Paul Ryan
When Ryan had a chance to speak out about Trump's decision to make Breitbart News executive Steve Bannon his chief strategist, the speaker said he was "not looking backwards," though Bannon has personally gone after Ryan. And amid questions about how Trump will handle his businesses and potential conflicts of interest, Ryan's answer was "however he wants to."
After The Washington Post reported the CIA's conclusion that Russia had intervened in the presidential election, Ryan's spokeswoman, AshLee Strong, issued a statement on Sunday saying that "Ryan has said for months that foreign intervention in our elections is unacceptable."
"The speaker can not comment on or characterize the content of classified briefings but he rejects any politicization of intelligence matters," she said.
That statement didn't seem to answer anything, so Ryan came out with his new statement that simply reiterated the previous statement using more words.
"As I've said before, any foreign intervention in our elections is entirely unacceptable," the statement read. "And any intervention by Russia is especially problematic because, under President Putin, Russia has been an aggressor that consistently undermines American interests. At the same time, exploiting the work of our intelligence community for partisan purposes does a grave disservice to those professionals and potentially jeopardizes our national security. As we work to protect our democracy from foreign influence, we should not cast doubt on the clear and decisive outcome of this election."
It's that last sentence that's particularly interesting. Ryan doesn't think we should "cast doubt" on the outcome of the election ― which may indicate that he does not support a congressional investigation into how Russia played the American electorate.
http://www.huffingtonpost.com/entry/paul-ryan-russia-hacking_us_584eea68e4b04c8e2bb0cf62
A month before Donald Trump clinched the Republican nomination, one of his closest allies in Congress — House Majority Leader Kevin McCarthy — made a politically explosive assertion in a private conversation on Capitol Hill with his fellow GOP leaders: that Trump could be the beneficiary of payments from Russian President Vladimir Putin.

"There's two people I think Putin pays: Rohrabacher and Trump," McCarthy (R-Calif.) said, according to a recording of the June 15, 2016, exchange, which was listened to and verified by The Washington Post. Rep. Dana Rohrabacher is a Californian Republican known in Congress as a fervent defender of Putin and Russia.

House Speaker Paul D. Ryan (R-Wis.) immediately interjected, stopping the conversation from further exploring McCarthy's assertion, and swore the Republicans present to secrecy.
McCarthy's remark sounds like a bad joke, as his spokesman claimed, but the issue is not whether Trump was actually receiving rubles from the Kremlin. McCarthy and fellow Republicans betray in this episode both a recognition of the degree to which Trump was behaving as Vladimir Putin's lapdog and their own lack of seriousness about a presidential nominee who, if elected, would pose a threat to the United States' national security. The glib, cavalier treatment of a potential national security threat reveals a level of immaturity and irresponsibility that we do not expect from elected officials, especially those in top leadership roles.
https://www.washingtonpost.com/blogs/right-turn/wp/2017/05/18/the-more-we-learn-about-russia-connections-the-worse-it-looks-for-all-republicans/?utm_term=.768b730fcb7f
Orrin Hatch
This is perhaps the toughest possible successor to have ousted from the order of succession. Personally, as a former financial planner that saw how quickly the elderly can deteriorate mentally I feel that at the age of 83 Hatch is far too old to exercise the office of President. I also feel that just as there is a minimum age there should also be a maximum. That said, there are some ethical questions concerning the Senator from Utah…
The pharmaceutical industry that long has benefited from Sen. Orrin G. Hatch's legislative efforts has directed large sums of money to a charity he helped found — and still raises money for — while also hiring the Republican lawmaker's son as a lobbyist.
Though Congress boasts that it is more transparent after passing new disclosure rules, Americans have had no way of knowing about the drugmakers' largesse to the charity, Utah Families Foundation. No way, that is, until a normally confidential tax filing was mistakenly released by the Internal Revenue Service to a nonprofit database last year.
The tax form, obtained by The Washington Times, shows that five pharmaceutical companies and the industry's main lobbying group wrote checks in 2007 to the Utah Families Foundation — some as large as $40,000 — that far exceed what they could give publicly to Mr. Hatch's campaigns.
The donations, $172,500 in all, came at the same time that the Pharmaceutical Research and Manufacturers of America (PhRMA) was paying one of Mr. Hatch's sons, Scott, to be its lobbyist in Congress.
And if that weren't enough political intrigue, the tax-exempt charitable foundation, which the senator from Utah helped start in the 1990s and still vigorously supports, has been delinquent for nearly a decade in filing its required annual reports with Utah state officials, a review by The Times found.
The tale of the Utah Families Foundation provides fresh evidence that the campaign-finance limits and transparency reforms that President Obama demanded and that Congress enacted still leave avenues for interests to route large sums of money to lawmakers' favorite causes without disclosure.
http://www.washingtontimes.com/news/2009/mar/02/the-fog-of-congressional-transparency/
The rules require at least one member of the minority party to be present for the committee to vote on a nominee. But Hatch suspended the rules, allowing him to go around that requirement.
Senate Republicans advanced Rep. Tom Price (R-Ga.), Trump's nominee to lead the Department of Health and Human Services, and Steve Mnuchin, the pick for treasury secretary, out of committee favorably, on a 14-0 vote. Price and Mnuchin are now cleared to receive a full vote on the Senate floor.
Democrats are opposed to moving forward on the two nominees because they believe the two men misled the public and held back vital information about their backgrounds. The decision to boycott committee votes spread Wednesday morning, when Democrats on the Environment and Public Works Committee also skipped the vote on Oklahoma Attorney General Scott Pruitt to be head of the Environmental Protection Agency.
(Sidenote: Mnuchin is also now being investigated for connections with Russia)
http://www.huffingtonpost.com/entry/mnuchin-price_us_5891f428e4b0c90eff01300a
Rex Tillerson
In my personal opinion, Tillerson, due to his close relationship with Russia and Putin in addition to his connection with Big Oil as former CEO of Exxon should have never been allowed near the White House, much less named Secretary of State. Here's why he shouldn't be allowed to be President…
The following just came out yesterday, May 18,2017 :
The State Department is withholding a document related to Secretary of State Rex Tillerson's communications with the department about Russia in his capacity as ExxonMobil Chairman and CEO, citing a need to protect internal deliberations.
The decision comes in response to a Freedom of Information Act request submitted by CNN in December, after Tillerson had been announced as Trump's pick to lead the State Department, but before the inauguration and his subsequent confirmation by the Senate.
The request called for any "communications between ExxonMobil CEO/Chairman Rex Tillerson and officials at the State Department relating to Russia and US policy toward Russia."
In a response letter dated May 10, the State Department's FOIA office notified CNN it's search had yielded one document responsive to the request. "After reviewing the document, we have determined that it must be withheld in full," the letter states.
Tillerson had extensive dealings with the Russian government during his time at ExxonMobil, negotiating a partnership with the state-owned oil giant Rosneft.
The effort famously prompted Russia to award Tillerson the Order of Friendship, one of the highest honors Russia gives to foreign citizens.
In his confirmation hearing in January
, Tillerson acknowledged he "engaged" with the State Department, Treasury Department and Office of Foreign Asset Controls over US sanctions affecting an ExxonMobil project in the Russian arctic.
http://www.cnn.com/2017/05/18/politics/tillerson-state-department-communication/
Tillerson initially met Putin in 1999 on the Sakhalin island in Russia's Far East, when Exxon struck a deal with Russian state-owned oil giant Rosneft. The two men have met a number of times since then, as Tillerson continued building a relationship with Putin through his business interests in Russia.
The link below shows the timeline and Tillerson's many visits to Russia
http://www.businessinsider.com/trump-rex-tillerson-vladimir-putin-russia-exxon-2016-12
From Wikipedia:
Tillerson has ties with President Vladimir Putin of Russia.[6] They have been associates since Tillerson represented Exxon's interests in Russia, the world's largest producer of crude oil, during President Boris Yeltsin's tenure.[27] John Hamre, the President and CEO of the Center for Strategic and International Studies, of which Tillerson is a board member, states that Tillerson "has had more interactive time with Vladimir Putin than probably any other American, with the exception of Dr. Henry Kissinger."[27]
Tillerson was a friend of Igor Sechin,[28] the Executive Chairman of Rosneft, the Russian state oil company, and leader of the Kremlin's Siloviki (security/military) faction,[29] who has been described as "Russia's second-most powerful person" after Putin.[30]
In 2011, on behalf of ExxonMobil, Tillerson signed an agreement with Russia for drilling in the Arctic that could be valued up to $300 billion.[31] The company began drilling in the Kara Sea in the summer of 2014, and a round of sanctions against Russia introduced in September that year due to the Ukrainian crisis was to have brought the project to a halt in mid-September.[32][33]Nevertheless, the company was granted a reprieve that stretched the window to work until October 10, which enabled it to discover a major field with about 750 million barrels of new oil for Russia.[34]
In 2013, Tillerson was awarded the Order of Friendship by Putin for his contribution to developing cooperation in the energy sector.[35][36]
https://en.wikipedia.org/wiki/Rex_Tillerson
Steve Mnuchin 
Treasury Secretary Steven Mnuchin just got a new Hollywood business partner: a man who made billions investing in Russia.
A company run by Len Blavatnik announced a deal Tuesday to buy a stake in a film-finance firm that, in turn, is engaged in a joint venture with Mnuchin, backing blockbusters including "The Lego Batman Movie." The Treasury secretary has pledged to sell his own interest in the business by June.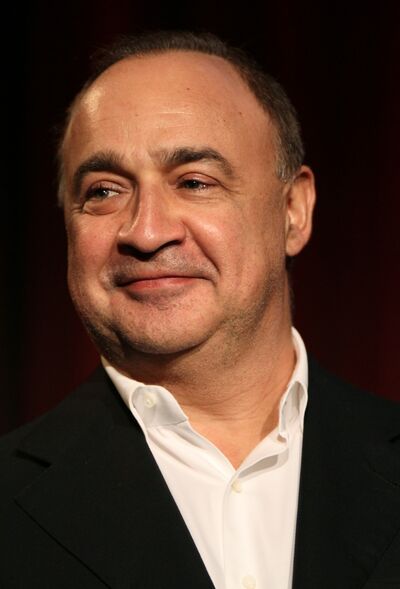 Born in Ukraine and raised in Russia, Blavatnik moved to the U.S. in 1978 and later became a U.S. citizen, according to the website of his company, Access Industries Holdings Inc. He made a fortune following the breakup of the Soviet Union, investing in Russian oil and aluminum. The Bloomberg Billionaires Index estimates the 59-year-old's net worth at $18.7 billion, including assets around the world in chemicals, real estate, technology and entertainment.
Through Access Entertainment, Blavatnik bought an interest in RatPac Entertainment from James Packer, an Australian businessman who founded the film company with movie producer Brett Ratner. RatPac, in turn, is part of a joint venture with Mnuchin known as RatPac-Dune, which struck an agreement with Warner Bros. in 2013 to provide $450 million in funding for as many as 75 movies, including "Suicide Squad" and "Kong: Skull Island." The transaction disclosed Tuesday doesn't include Mnuchin's stake.
A spokesman for Access Entertainment declined to comment, as did a spokesman for Treasury. Blavatnik didn't disclose the price he paid.
Potential Conflicts
The link with Blavatnik shows the complexity of managing potential conflicts for top Trump administration officials, many of whom, including President Donald Trump, were wealthy businessmen who took office with far-reaching financial interests. Bloomberg estimated in January that Mnuchin, a former Goldman Sachs Group Inc.partner who later became a Hollywood financier and turned around a troubled bank, was worth more than $600 million.
In January, Mnuchin provided federal ethics officials with a five-page plan to divest dozens of assets, including the stake in RatPac-Dune. He said he would complete the sale within 120 days of his confirmation, and that he wouldn't make decisions as Treasury secretary that would affect its value during that time.
Blavatnik was a significant donor in the last presidential election, pouring millions of dollars into political action committees supporting several Trump rivals for the Republican nomination. His name later appeared on the guest list for a suite of "highest level" party donors at the GOP convention in Cleveland. Mnuchin, who was Trump's fundraising chief, hosted a gathering in the suite next door.
In December, Blavatnik's Access Industries gave $1 million to Trump's inauguration committee, according to a Federal Election Commission filing
https://www.bloomberg.com/news/articles/2017-04-19/mnuchin-s-newest-hollywood-partner-made-billions-in-russian-oil
The information below was just released yesterday, May 18, 2017
Treasury Secretary Steve Mnuchin would not fully commit to providing a list of business associates of President Trump who had any ties to Russia to lawmakers at a Senate hearing on Thursday.
Mnuchin, who was asked to testify before the Committee on Banking, Housing, and Urban Affairs, sidestepped Ohio Democratic Ranking Member Sherrod Brown's request for a complete list of any associates of Mr. Trump or his administration, including his family members who had such relationships.
Mnuchin advised Brown to follow up with Mnuchin's team following the hearing, but Brown told him he had already sent Mnuchin a written request back in March. He continued to press Mnuchin to commit to providing a list of any business entanglements.
Brown told Mnuchin that the American people are "troubled by the president's business connections," particularly when members of the Trump family conduct business in another country on behalf of the Trump brand.
"It's about the national security of this country and it's about people wanting that information," added Brown.
Mnuchin replied that he can "assure if there were any cases that involved the president" and members of his family, that he would "take it very seriously" and review them like anyone else.
http://www.cbsnews.com/news/mnuchin-sidesteps-trump-russia-business-ties-at-senate-hearing/
From Wikipedia:
Steven Mnuchin was born on December 21, 1962, in New York City, as the second-youngest son of a Jewish family.[4][5][6] He is a son of Robert E. Mnuchin, of Washington, Connecticut, and Elaine Terner Cooper, of New York.[7] Robert Mnuchin was a partner at Goldman Sachs in charge of equity trading and a member of the management committee. He is also the founder of an art gallery in New York City, the Mnuchin Gallery.[7][8] Mnuchin's great-grandfather, Aaron Mnuchin, a Russian-born diamond dealer who later resided in Belgium, emigrated to the U.S. in 1916.[9]
https://en.wikipedia.org/wiki/Steven_Mnuchin
Steven Mnuchin, President-elect Donald Trump's pick for treasury secretary, found himself on the defensive for failing to disclose $100 million in real estate assets on his financial disclosure forms before today's confirmation hearing.
Sen. Debbie Stabenow, D-Mich., pointedly asked Mnuchin, a former hedge fund manager, if he would support closing tax loopholes in the U.S. that "extremely wealthy people use, such as yourself, to avoid paying taxes?"
She said Mnuchin, 53, also failed to include his position as a director of a Cayman Islandsholding corporation.
Mnuchin said his offshore bank accounts in the Cayman Islands were used only to benefit nonprofits and pension funds and were allowable by law. Regarding the omission about his position in a shell company, Mnuchin claimed the mistake was an oversight.
http://abcnews.go.com/Politics/trumps-treasury-secretary-pick-steven-mnuchin-defends-role/story?id=44886015
James Mattis
One point that makes Mattis stand out among the others in the order of succession is that he is an Independent and was actually appointed by President Obama in 2010 to replace General Petraeus.
From Wikipedia:
James Norman "Jim"[3] Mattis (born September 8, 1950) is the 26th and current United States Secretary of Defense, serving in the Trump Administration. Mattis is a retired United States Marine Corps general who previously served as the 11th Commander of United States Central Command and was responsible for American military operations in the Middle East, Northeast Africa, and Central Asia, from August 11, 2010, to March 22, 2013.
On January 20, 2017, Mattis was confirmed as Secretary of Defense 98–1 by the United States Senate on a waiver,[4] as he had only been three years out of active duty despite US federal law requiring a seven-year cooling off period for retired military personnel to be appointed Secretary of Defense. He was the first member of President Donald Trump's cabinet to be confirmed.
Before President Barack Obama appointed him to replace General David Petraeus on August 11, 2010, Mattis previously commanded United States Joint Forces Command from November 9, 2007, to August 2010 and served concurrently as NATO's Supreme Allied Commander Transformation from November 9, 2007, to September 8, 2009. Prior to that, he commanded I Marine Expeditionary Force, United States Marine Forces Central Command, and 1st Marine Division during the Iraq War.[5]
https://en.wikipedia.org/wiki/James_Mattis
Mattis, whose nicknames include "Mad Dog" and the "Warrior Monk," has had a leading hand in some of the U.S. military's most significant operations in the past 20 years. As a one-star general, he led an amphibious task force of Marines that carried out a November 2001 raid in helicopters on Afghanistan's Kandahar province, giving the Pentagon a new foothold against the Taliban after the Sept. 11, 2001, attacks. Using the call sign "Chaos," he commanded a division of Marines during the U.S. invasion of Iraq in 2003 and returned there the following year to lead Marines in bloody street fighting in the city of Fallujah.
Mattis continued to rise through the ranks and establish his credentials as a military thinker, co-authoring the U.S. military's new counterinsurgency manual with then-Army Lt. Gen. David H. Petraeus while Mattis was a three-star general at Quantico, Va.
He was considered a leading contender to become commandant of the Marine Corps in 2010 but was bypassed in favor of Gen. James F. Amos. Instead, Mattis replaced Petraeus as the chief of Central Command, overseeing U.S. military operations across the Middle East.
Even though Central Command did not encompass Israel, Mattis made a concerted effort to reach out to his Israeli military counterparts, according to Steven Simon, who worked with Mattis when he served on Obama's National Security Council.
Simon, who now teaches at Amherst College, said Mattis made frequent stops in Israel during trips to the region, part of an effort to encourage the Jewish state and its Arab neighbors to work together to counter Iranian influence. "They respected Mattis because they saw him as a straight shooter and a good listener," Simon said of the Israelis and Arabs.
https://www.washingtonpost.com/world/national-security/trump-has-chosen-retired-marine-gen-james-mattis-for-secretary-of-defense/2016/12/01/6c6b3b74-aff9-11e6-be1c-8cec35b1ad25_story.html?utm_term=.d5228736be65
The following quote by Mattis sums up the way I feel about combat:
"If in order to kill the enemy you have to kill an innocent, don't take the shot. Don't create more enemies than you take out by some immoral act." General James Mattis
I was going to include information on Jeff Sessions as he is next in line after Mattis but his obvious Russian Connections as well as ethical violations are so numerous that he will be ousted with the rest of Trump's cronies.
Here are a couple more links that should be VERY interesting…
Guccifer 2.0 and the hacking of Democratic candidates for Congress
Who in Trump's Inner Circle Doesn't Have Ties to Russia
Fast Facts on Order of Succession 
I feel that with the "no doubt" thorough investigation that will be done by Robert Mueller that those above Mathis with the possible exception of Hatch will also be implicated in connections and/or collusion with Russia or obstruction of justice/perjury which will knock them out of consideration.
It is my hope that warrants will be issued for all simultaneously with articles of impeachment for Trump and that Orrin Hatch will put the good of the country over himself and decline the office due to his age and the very real possibility that he could not serve the remainder of the term.
I do not pretend to be an expert in the Presidential Order of Succession and this is merely my own opinion on how things could and should go.
Storm